Recipes
Gaspatxo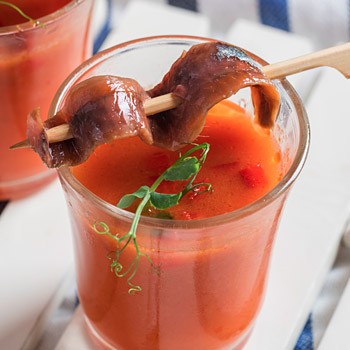 Ingredients
- 4 Anchovies
- 6 large ripe tomatoes, fleshy
- 2 green peppers
- 1 red pepper
- 1 cucumber
- Heart 1 large onion,
- 1 clove garlic
- 2 slices of bread
- Salt, extra virgin olive oil, vinegar
Elaboration
Soak bread slices. Peel and chop the tomatoes, peppers, cucumber, onion and garlic. Place the mixture of ingredients in a blender, add a little water and blend until achieving a cream. Add the bread and water, vinegar and beat again until everything is well get crushed and emulsified. Introduce the refrigerator to reach the desired temperature. At the time of serving sprinkle with a dash of extra virgin olive oil. Serve with a garnish of raw diced cucumber, diced bread, cut into squares pepper, onion and anchovies.
Tartar with avocado and strawberries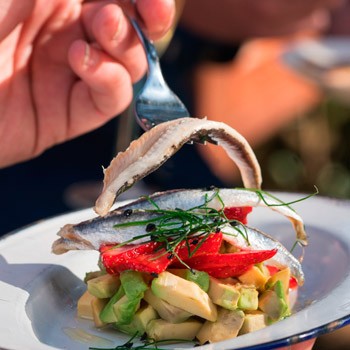 Ingredients
- Anchovies in vinegar
- two Avocados
- 6 Strawberries
- fresh sprouts
- Virgin olive oil
Elaboration
Peel and chop the avocado into cubes. With clean strawberries, cut them into cubes too. With a round mold put a layer of avocado and a strawberry. Remove the mold and we should be like a cake. Add as decoration outbreaks fresh fillets of anchovies in vinegar. We water with a dash of olive oil, but also can go either mild vinaigrette.
Seafood Paella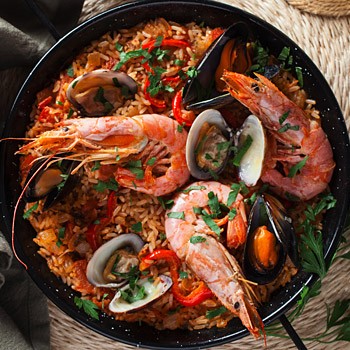 Ingredients
- 1 can of broth
- 2 cups of rice round bomb
- 150g prawns
- Squid or cuttlefish 1 1
- 200g mussels
- 200g clams
- Extra virgin olive oil
Elaboration
Put in a pan a stream of olive oil, add chopped cuttlefish or squid and clams. Let go cook until clams open. At this time, we like to remove the squid or cuttlefish and clams, to dump the rice because it absorbs the taste of pre-cooked products. Pour Broth and mix. When the stock breaks the boil, reduce heat and cook for about 20 minutes. Time to introduce the pan clean the prawns and mussels. Before serving let stand about 4 or 5 minutes.